Over the coming years the UK's hospitality sector is set to go through difficult and challenging times. The aim for Skills Provision is to assist companies by supplying suitably skilled workers.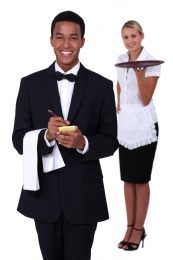 Brexit, and the removal of free movement of workers, was always going to hit the hospitality sector hard. However, no one could predict the effects of the global pandemic.
By sourcing an Employer Sponsored Visa and working closely with Skills Provision hospitality companies will be able to navigate through these challenging times. Our task is to source the right workers, people who are fit for task and happy to remain in place over the long term, as quickly as possible.
Chris Slay our Managing Director commented. "The problems faced in the UK's hospitality sector is challenging, that said my team has a lot of experience in dealing with complicated issues. In fact, we are at our best when the pressure to source is at its highest. We will support companies and they will get the manpower required".
If you are a hospitality manager and struggling to source manpower, you need to contact us as soon as possible. However, a word of warning, salaries and packages need to be set accordingly, this is vitally important as it will give us a fighting chance.
For more information on our hospitality recruitment services, please contact us at the earliest opportunity via:
Please note all enquiries are dealt with in a prompt, professional and confidential manner.